They always start out so... ordinary. A bit cloudy. A threat of rain. Washing to do. The ever-present thoughts of what-to-do-next in my head. My bike in a state of filthiness and in need of maintenance, so a trip into the shop and a couple of hours later the rear end rebuilt, wheels trued, and a wipe over. 3 o'clock already? Brilliant sunshine. Ok, bike's already in the car, throw on some riding gear and hit
Makara.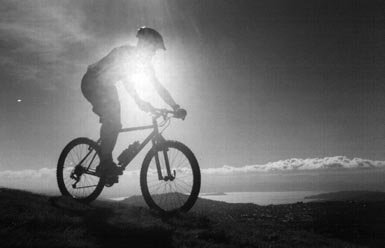 Ridgeline...Photo by Simon Kennett
Singletrack salvation. Again. Climbed up Koru and Salley Alley in tandem with a guy on a Scott Genius. Got talking to him after Missing Link. Marty. Not the dog. Climbed together up Aratihi, checked out the magnificent view of a great city (and no wind at all on top, amazingly) then busted it out down Ridgeline, SWIGG and Starfish. Hard to keep the smiles off our faces after those trails, a great way to end a day which promised so little, but delivered much more.